Safety Considerations In Bathroom Renovations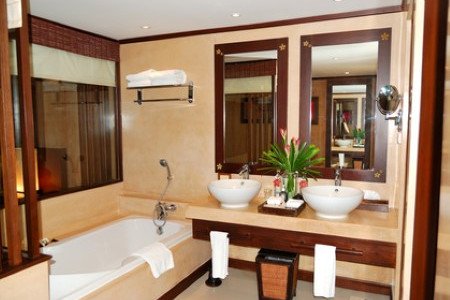 During Calgary bathroom renovation projects there are many safety considerations to incorporate into your design and your choice of materials and fixtures. In some localities many of these features are required by building codes. In other localities, these features are worth considering for the safety of your family and to protect your Calgary home.
Here are some of the basics you might consider as you plan your Calgary bathroom renovation:
1. Use ground-fault circuit interrupters (GFCI) on all outlets in a bathroom. These devices can prevent damage to your electrical system and protect your family from injury.
2. Use moisture-proof electrical fixtures near the tub, shower, sinks and toilets. This will protect your electrical system in the event of water being splashed on an outlet or other fixture.
3. Install only anti-scald faucets. This is important for the entire family, but it is particularly important in a bathroom that will be used by children.
4. Consider using lever-type handles on faucets. Levers are easier to turn, particularly for the aging and people with disabilities.
5. In developing your bathroom renovation design, keep in mind that steps or platforms providing access to showers and tubs can become very slippery. You might want to consider a non-slip surface for these areas if you include them. This could be an important step in preventing injury from a fall.
6. Choose a non-slip surface for tub and shower tray. This can help to prevent slips and falls for people of all ages.
7. When choosing a tub or shower, be sure everyone who will use it can get in and out safely and easily before you install it.
8. In choosing lighting fixtures for the shower, be sure to choose only fixtures designed to protect the wiring from moisture.
9. Use bright lights around the tub and shower. This makes it easier to see any water on the floor and helps to prevent slips and falls.
10. Use safety glass in shower doors and windows near the tub or shower. This will help to minimize injury if someone slips.
11. If there are children in the house, install safety locks on medicine cabinets and all cabinets in which you will store potentially harmful cleaning products or medicines.
12. Install grab bars beside shower, tub and toilet.
Be sure to check with your local governing agency about specific requirements for bathroom renovations in Calgary. These building code requirements vary widely from one locality to another. Whether these features are required or optional in your region, these safety considerations are worth your time. Your Calgary renovation contractor can provide you with more details.