Calgary Glass Shower Doors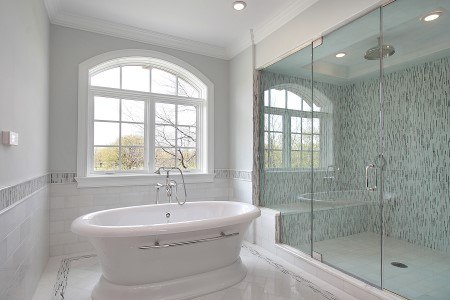 Due to popular demand and also the large number of custom shower enclosures and steam showers we build, Fun & Function Renovations now supplies and installs custom fit glass shower doors, not just to bathrooms remodelled by us, but for any size and/or shape.
There are many reasons to the ever increasing demand for frameless glass shower doors and panels. Beauty, simplicity and ease of cleaning are just a few reasons. With frameless doors outpacing traditional style enclosures, cost of frameless became lower while the old style doors increased in cost. In addition to our great pricing, we are honest, reliable and experienced in delivering high quality installations. We use strictly CRL brand hardware, the best in the world. We have recently increased warranty on our glass work from one year to 2 years and this includes the seals.
Why Calgary Should Hire Us for Their Glass Shower Doors
Fun & Function Renovations is the Calgary Renovations Contractor you can trust for reliable, quality shower glass and glass panels for your bathroom renovation needs. From frameless showers to installing glass shower doors for steam showers, you can rely on us for customer service and the type of craftsmanship that leaves you with long lasting, beautiful results.
All shower glass are not the same. In fact, not all. In the past we have gone through a few tempering shops and glass suppliers that have failed to deliver to our expectations. We have been with Crystal Temp (Swift Current) for the last few years. There is also valid reason why we do not switch from C.R.Laurence to a lower grade and lower priced supplier, we would hate to see rusty water running out from under your door handle or hinge. And finally, our experienced local Calgary glass installers will perform the work clean, neat, and flawlessly. On time so that you can enjoy your new bathroom sooner! And recently we have started supplying and installing architectural and stair railing, these are available indoor and/or outdoor applications.
Recent Glass Shower Door Projects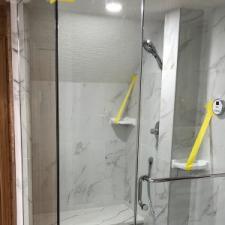 Sometimes you might decide to keep some of what you have and remodel or replace just certain items in your home. We can do careful work so not to damage anything you wish to keep and work around it. […]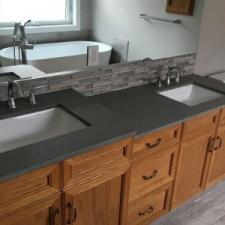 Full remodel of ensuite bathroom including a slightly larger shower stall, new counter tops, and bathing area. Also includes a new awning crank-out window with frosted safety glass. Give our renovati […]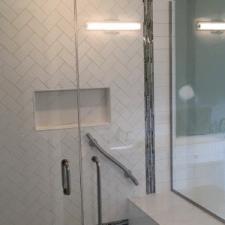 We realize not every bathroom is as spacious as this one but we also know from experience that every bathroom can be not only functional but also beautiful. This is a great example of potential real […]