Calgary Steam Rooms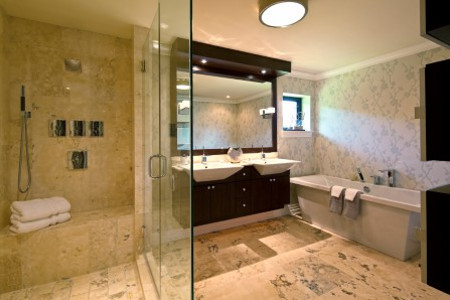 Lazing around in Calgary steam rooms is equivalent to escaping the stressful real life and sighing in the luxury of warm, relaxing steam. Sitting in a steam room or steam shower provides relief from the fatigue resulting from the active daily life and tiring, time-consuming needs of family and work. A session in the healing room will leave you energetic and ready to face the world once again.
Steam therapy such as the use of a steam shower has several benefits to the body. A steam bath is a great way to relax after a long day. Calgary steam rooms are usually designed for custom showers. However, they may be installed in any place that can be enclosed to keep the steam inside. The ideal height for the ceiling of your steam sauna is seven feet. A good steam room will provide a hundred percent humidity in the cubicle. Experts design the seat away from the ceiling so that the condensed water droplets do not drip over you.
Most local people live an active outdoor lifestyle. The mountains offer some of the best camping, skiing, hiking and snowboarding in the world. Perhaps it is why Calgary homeowners are fast learning the benefits of their very own residential steam room. At Fun & Function Renovations we have been designing and building Calgary steam rooms for many years, and it has became one of our main products. Today we are leading the way in design, technology and quality for steam rooms in the Calgary area. We are using state of the art materials from around the world and we offer the best warranty in the business. Whether you are looking for a residential steam shower or a commercial steam room, Fun & Function Renovations' Calgary steam room experts will assist you from beginning to end.
We also offer steam room and steam shower maintenance and repair as well as boiler maintenance and repair. If you are looking for peace of mind and reliable operation, contact us to find out more about a structured maintenance service plan for your existing or future steam shower.

Fun & Function Renovations is an authorized dealer for Alladin Air Steam Boilers. These awesome units are small, powerful and now come with a 5 year warranty. Available for residential and commercial use.
Why Calgary Should Hire Us for Their Steam Rooms
Get the ultimate relaxation and luxury for your home renovation by contacting Fun & Function Renovations today for steam room or steam shower installation services! Fun & Function Renovations is the Calgary renovation contractor you can trust to get the job done, on time and on budget. Our employees are not sub-contracted and will offer you no delays - just quality work and excellent customer service when completing your steam rooms in Calgary or the surrounding areas.
When you want quality results, friendly customer service, and long lasting craftsmanship, you want Fun & Function Renovations! We are the Calgary renovation contractor you can trust for reliable, quality service. We also provide a 10 Year Labor Warranty instead of a 12 month warranty given by most other contractors. So give us a call today to discuss your steam room or steam shower ideas! At Fun & Function Renovations, we are happy to serve you in 4 different languages: English, French, Spanish and Hungarian.