How A Calgary Renovation Contractor Can Make The Most Of Your Small Kitchen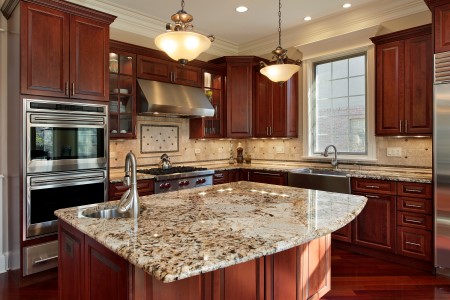 No matter how small your kitchen is, a Calgary renovation contractor can help you utilize the space in a smart and creative way. With professional help, you can create a comfortable, attractive, and workable environment.
A great kitchen should be functional and attractive, and it should have the perfect amount of "flow". If the kitchen in your Calgary home is smaller than average, achieving all of these things might seem impossible.
The first thing you want to consider when you need to renovate your kitchen is how you most often use it. This is important because it should function the way you need it to.
If your kitchen is very small, you'll also need to put a strong emphasis on storage, which is likely to be the biggest challenge. The Calgary renovation contractors at Fun & Function Renovations can help you design the perfect kitchen, no matter how much or how little space you have.
Here are a few tips and tricks our experts use to make the most out of small kitchens.
Focus on the Most Important Details First
When you are working with a smaller place, you need to be certain that you're using all of the space available. Consider how you use your Calgary home's kitchen the most and start there with the design.
If you cook frequently, try adding features that will make the tasks easier and more fun. A bigger food prep area, chopping block, and stainless steel surface can be fit into a smaller space and make cooking much easier. Stainless steel can also be used to for hot pans or cooked foods.
If you're interested in baking, the most important part of your kitchen renovations will be a proper countertop. If you use the kitchen to socialize or it's where your kids do homework, be sure to include a great seating area first and foremost.
Remember that you can customize anything in the kitchen to suit your needs. It doesn't all have to be standard construction. What's important to you when you work or entertain in the kitchen?
Our renovation contractors can work with you ensure that the changes to your kitchen are perfect for your home no matter how large or small your kitchen is. There are many ways to update a small kitchen to make it fun and functional.
Install A Kitchen Island With Cabinetry Underneath
If you have a small kitchen in your Calgary home, a kitchen island is a must-have! Counter-tops are prime real estate in your kitchen, and putting in a kitchen island will give you more of it. Kitchen islands can also be used for storage, as a food prep area, or even an eating space.
Make sure that the storage under the island is easy to access. Some islands have shelves and some have both shelving and cabinets. A custom built island can be designed to also house certain kitchen tools and gadgets, spices, and oven mitts for convenient access.
Redesign & Install Lighting
The lighting of any room can dramatically change the way that it feels, and smaller kitchens can feel a lot bigger with atmospheric lighting. Pendant lights in the eating area, incandescent lighting underneath upper cabinets, or spot lighting above the counters can make the kitchen feel warmer, more open, and more comfortable. Installing recessed lights is a favorite because they get in the way or take up space.
Rearrange Appliances For Better Work Flow
Smaller kitchens need to be completely functional. Some ideas on improving the layout of your kitchen include installing a wall oven and microwave and replacing the old stove/oven combo with a countertop stove and cabinetry below for storage. This frees up space on the counters too.
You may be able to get away with a smaller refrigerator that could be relocated. If you're single or don't need a huge refrigerator, it might be moved to a different wall to make the layout better. If you install an island, you could install the stove there. Not all layouts can be changed, so seek the advice of your Calgary renovation contractor.