3 Cleaning And Maintenance Tips For Your Frameless Glass Shower Door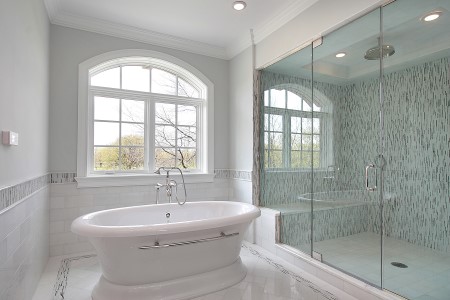 Cochrane homeowners often select frameless glass shower doors for their bathroom renovations. At first, the frameless glass shower door is in pristine condition, but after a few uses, you notice the layer of grime covering your new door. To maintain your shower door's shiny appearance, regular cleaning is required, and to keep it in good condition, you should check for signs of damage often.
Clean Your Shower Door Daily
Contractors who specialize in bathroom renovations recommend that homeowners clean their frameless glass shower doors after every use. Although this frequency seems excessive, the daily cleaning will make deep cleaning much easier. Squeegees, sponges, and foam cleaning pads work well for daily cleaning, and people should simply wipe down the glass door before exiting the shower. Removing excess moisture in the shower is important because mold and mildew thrive in damp areas. Once the door is wiped down, the door should be left open to allow for air circulation. Chemicals are not necessary for daily shower cleaning.
Deep Clean Your Shower Door Weekly
Homeowners should aim to deep clean their frameless glass shower doors once a week, but if that goal isn't achievable, deep cleaning should occur at least once a month. Many people use baking soda and vinegar to deep clean their showers because these cleaning agents remove mold and mildew. Baking soda is best for stone showers because vinegar can harm the stone. Other people swear by the cleaning power of lemons, claiming that lemons remove streaks on glass when combined with baking soda. When deep cleaning your glass shower door, don't forget about removing the grime from the creases and edges of your shower.
Check for Damage While Cleaning Your Shower Door
Every time you clean your shower, scan your frameless glass shower door for leaks or cracks. Even the smallest cracks or chips can result in a shattered glass door, so it is important to detect defects in the glass early. Additionally, a leaking glass shower door can create moisture problems that allow mold and mildew to thrive. Contact your bathroom renovations contractor as soon as possible if you notice complications with your glass shower door.
If you are interested in making some bathroom renovations to your Cochrane home, contact a trusted company like Fun & Function Renovations, and don't forget to keep up with the maintenance of your new frameless glass shower door.