Bathroom Renovation Ideas for Calgary Homes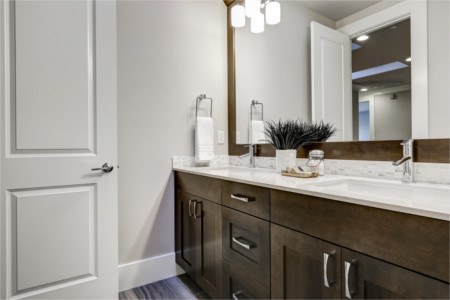 Bathroom renovation ideas for an average sized bathroom include such things as putting in new fixtures for your lighting, sink, or bathtub. Sometimes those small changes can make a huge difference in the look and feel of your bathroom. If you are basically satisfied with your bathroom, but feel like some minor changes would make a world of difference, then you might want to consider making some of these changes. Replacing fixtures in your sink or bathtub are average bathroom renovation ideas that generally do not require a great deal of time or money. Lighting can also be changed out for a fairly reasonable cost (usually), but this may depend upon the size of your bathroom, as well as how elaborate you choose to get with your choice of lighting fixtures.
Renovation ideas might also include adding or improving upon the storage cabinets that you have. Sometimes fairly simple carpentry projects do not cost a great deal of money, so this is certainly an option worth looking into if you are on a budget and only want some basic renovations done. Of course, it will still be necessary for you to consult a reliable and reputable contractor for any renovations that you need. Looking online for general contractors is a great way to find out some basic information about them, but true research requires both time and patience.
In seeking out the best Calgary renovation contractors, you need to find out a variety of information, including whether he or she is licensed and bonded, and whether that individual carries worker's compensation insurance.
Recommendations from friends and family are sometimes the best sources of reliable information, but not everyone just happens to know somebody who has had their home renovated. If you do not have personal referrals, then you need to make sure that you get as many references as possible from each contractor that you are considering entering into an agreement with. Check each reference that is given to you, and then combine that information with your own gut instincts about each professional Calgary renovation contractor that you interview.
Remember that some average Calgary bathroom renovation ideas will not only be affordable, they will make an incredible difference in the atmosphere of your bathroom.